Juan: I've been here a long time. Out of Cuba. A lot of black folks are Cuban. You wouldn't know from being here now. I was a wild little shortie, man. Just like you. Running around with no shoes on, the moon was out. This one time, I run by this old… this old lady. I was running, howling. Kinda of a fool, boy. This old lady, she stopped me. She said "Running around, catching a lot of light". "In moonlight, black boys look blue". "You're blue". "That's what I'm gonna call you: 'Blue'."
Little: Is your name 'Blue'?
Juan: Nah. At some point, you gotta decide for yourself who you're going to be. Can't let nobody make that decision for you.
Moonlight
Directed and Written by Barry Jenkins
Based on In Moonlight Black Boys Look Blue by Tarell Alvin McCraney
Music by Nicholas Britell
Cinematography by James Laxton
Starring: Trevante Rhodes, André Holland, Janelle Monáe, Ashton Sanders, Jharrel Jerome, Naomie Harris, Mahershala Ali.
Year: 2016
Chiron is a black boy living with an addict mother, with no friends except a boy named Kevin,  and is constantly bullied at school. One day he is found by Juan, who takes him to his home and introduces him to his girlfriend Teresa. We then proceed to follow Chiron through three chapters of his life, as a child, a teenager, and an adult. It is a story about growing up, while enduring physical and emotional pain and trying to find oneself. 
This masterpiece has been receiving all of the praise it deserves, but it also has drawn comparisons to Boyhood. I saw that film a couple of months after it came out, and even though it was an okay movie that I believe to be over-hyped, most people saw it as THE film about growing up. It is a good film, but it lacks the  brilliant piece about overcoming adversity than Moonlight has. Boyhood focuses on a child of divorce, while Moonlight deals with growing up with an addict mother and constant bullying, Mason watches Harry Potter movies and Chiron must hide his sexuality and feelings from everyone around him. One is the simple story of people dealing with growing up, separation, and family, and the other deals with all of that, plus the hopes some characters have of breaking the cycle that has plagued them for too long.
Kevin: You remember the last time I saw you?
Chiron: For a long time, tried not to remember. Tried to forget all those times. The good… the bad. All of it.
Kevin: Yeah. I know.
One of the strongest aspects of the film comes down to the characters and the actors portraying these characters. Not only do we have three different people who never met while filming their scenes portraying one character, but even the people we see for a minimum amount of screen time carry a complexity about them. Juan and Teresa are not shown in large chunks of the film, however their presence is felt throughout, and their actions, but mostly their words, affect Chiron more than one can imagine. Child Chiron was portrayed masterfully when it came down to the scenes he is confronted by his mother while she is high, his eyes carry the intensity of what he is going through, and the pure hate he feels every moment. Teenage and adult versions carry just the same, but in this case with both, Kevin and Chiron. All four actors not only served us with impeccable evolution, but are able to connect with each other to show the underlying relationship between these two men. Paula, Chiron's mother, is another character, who managed to envision all of our hate unto her, such a magnificent portrayal. 
Yet, my favourite part was the cinematography. Yes, the music is good, the cast fantastic, and the script inspiring, but the cinematography is some of the most beautiful I have ever seen, and I've seen a lot of movies. Every single scene is beautiful, the placing of objects, the lighting, the frames, the shots, all are a sight to behold. Colours are used to present moments, Miami becomes a character rather than just a city, and music is replaced by the sounds of waves, all adding to the atmosphere. PERFECTION!!!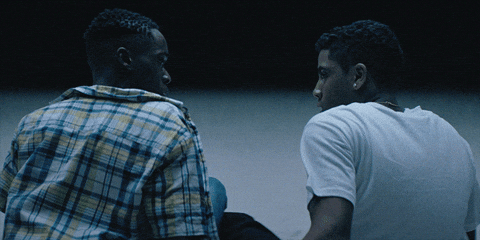 Teresa: Stop putting yo' head down in my house! You know my rule. It's all love and all pride in this house!
I will never know what we did to deserve such a masterpiece of story-telling, character development, and cinematography.
★★★★★