I haven't been keeping up much with Civil War II, not because I am not excited for it, but because I want to read it all in one go like I did with its predecessor. However, since I don't mind spoilers, and it is usually almost impossible to miss, I knew that one main character was bound to die, much like in every major comic event, here it happens to be The Hulk aka Bruce Banner.
This comic follows the aftermath of his death, his funeral, and the reading of his will, and how the people that love him feel and act afterwards. This is everything a story about the Hulk should be, it has heart, and it presents the very distinct line between both characters, The Hulk and Bruce Banner. Both personalities are explored, not by having him speak or act, but by showing how his friends, family, and acquaintances take his "fall". Some accept his end, much like he did, others are not sure how to feel, particularly when there are hecklers at his funeral, and others cannot contain their anger, and it may lead to some interesting fights in the coming war. 
This title left me with a desire to read Pak's Hulk Planet, which apparently is one of the greatest Hulk stories ever written. This is not for everyone though, it has a bigger effect if there's knowledge of the lore, as everything fits into place. I will come back to it as soon as I read Pak's run.   
Bryan Lee O'Malley is a hit  and miss for me, I hated the Scott Pilgrim comics, but his Seconds was quite good. The issue always arises from his shallow characters, which I can never stand, but on this particular story, no matter how uninteresting the character is, the plot managed to keep it a float.
The story follows Lottie, a fashion blogger who is perfect for her followers, but in reality has no close friends (since she deems everyone inferior) and has major allergies, which cause her to have an almost constant runny-nose. I was not sure this one particular issue could convince me to give O'Malley another chance, but I was soon swooped in on the cliffhanger. It seems like everything will be mundane, as it has a basic plot and even more basic characters, but there is a nice twist that will have you hooked.
This is the first story by him I've read that is not illustrated by O'Malley himself, whose art has never been my style, and is instead illustrated by Leslie Hung . I have to say that her style is wonderful, full of vibrant colours and well shaded/drawn characters. I want to see more from her, Image is definitely a good place for her to debut on her own series.
For fans of O'Malley's storytelling and newcomers' innovative art, this is the perfect tale.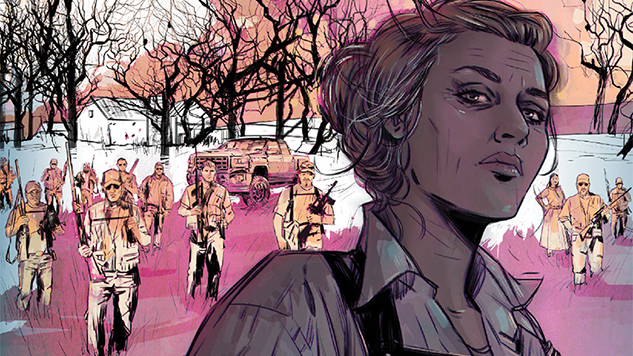 Briggs Land #1
Written by Brian Wood
Art and Colours by Mack Chater and Lee Loughridge
Publisher: Dark Horse
If this is any similar to Sons of Anarchy, I will have a fantastic journey through the following issues, because the first one has me hooked. It follows the newly-established matriarch Grace Briggs, whose husband has been running the family and their anti-government-secessionist-movement-land, who she just so casually now decided to abandon in there, in order for her to become the new leader, mostly to protect those whom she cares for. Of course, since the beginnings of this "town" were formed by certain ideals, some of which Grace does not agree with, she will have an arduous journey ahead of her if she wants to keep the peace, and everyone else safe. She will have to deal with sexism and the threat of the federal government, all while surviving assassination attempts. And we are only on the first issue.
What I am most intrigued about is how they will portray, not only sexism, but the racism that some of the characters obviously have. It is a hard topic for just anyone to target, but it is important for it to be discussed, particularly if it wants to take stance, and showing it on a light that makes sense while also demonstrating how bad/harmful it is to society.
Brian Wood is a great writer, and with such a talented artist and colourist alongside him, this will be one of Dark Horse best series.