★★★★★/★★★★★ 
Mighty Morphin Power Rangers Issue #0,1,2
Story by:  Kyle Higgins
Art by: Hendry Prasetya
Publisher: BOOM! Studios
Soon we will be getting a new film in the franchise, so it was only logical that I, as a big fan of it, would begin reading the comics (after re-watching the series). This comic series is set in Angel Grove in 2015, in a timeline where none of the events that have happened in the many series actually occurred, except for Tommy freeing himself from Rita Repulsa's control following the events of "Green with Evil." After Tommy's freedom, he keeps seeing Rita everywhere, she haunts him and mocks him, saying the Power Rangers don't really care about him, and no matter what, he will always be their enemy. She wants his power, and Tommy is unsure of who he is and how he should act, and therefore, he lies to the Rangers and Zordon.  There is also a side story following Skull and Bulk, and their YouTube channel, as they follow the Power Ranger's adventures. I did not like those as much as the original story, but it is always nice to see them interact with the Rangers.
This arc of the story will be called "Green Ranger: Year One," and will be accompanied by side miniseries that I will also pick up. I am hoping they take this series closer to the Power/Rangers fan film (if you have yet to see it, go do so now, google it and it will pop up, it is short, and full of nudity, sex, drugs, and murder), because the people that originally saw this show have grown up a lot, and adapting it to the audience will hopefully provide us with all we have wanted since first seeing this.
I am glad I have this series to remember all the times I would sit during the summer session at home watching one of the greatest childhood shows ever.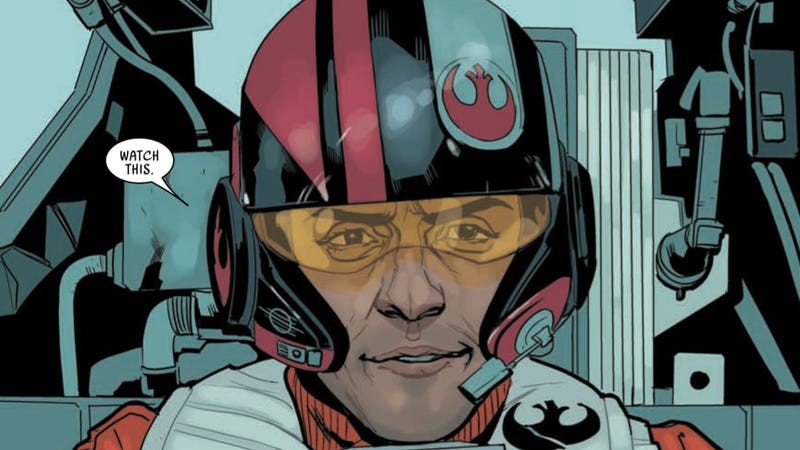 ★★★/★★★★★ 
Poe Dameron Issue #1
Story by:  Charles Soule
Art by: Phil Noto
Publisher: Marvel
What was the best thing out of Star Wars: The Force Awakens? That's right, heartthrob and cute potato, Poe Dameron. This comic series (or at least the first arc) will follow Poe during his adventures right before the new installment of the Star Wars series. I am not sure why they decided to go with this story instead of his much earlier history. I would have loved to see him as a child alongside his parents while they fought alongside Leia and Han, all the way to how he decided to become a fighter, and later Resistance fighter due to his disillusionment with the Republic's inability/desire to punish the First Order after their violations, and all the adventures he had during those times, over this story, but I am hoping it will become more exciting as new issues are released.
This issue did not manage to completely accomplish how the character is suppose to act, but since it is only the first of a few, I have hopes. I am also impressed that Charles Soule did not screw up this as much as he has done the other works of his I've read, and Phil Noto did an adequate job with the art, with the culture that worships the egg looking quite fantastic.
This issue has inspired me to read most of the Star Wars comics out there, since many qualified people are behind them, so my bank account is about to suffer a big blow. 
★★★★★/★★★★★ 
Moon Knight Issue #1
Story by:  Jeff Lemire
Art by: Greg Smallwood
Publisher: Marvel
This is the story of Marc Spector, who always thought himself to be Moon Knight, but he recently woke up in a psych ward, while everyone tells him his previous lives have been a dream. Which one is it?
Jeff Lemire has written a lot of good superhero comics, and a lot of other amazing comics, so when a worker at my local comic store told me Lemire will be writing a run on Moon Knight, all I had to do was pick up the first issue. I have read the original work and the Warren Ellis run, and both gave me very good insight into this character and his mental stability, the first issue of this series also managed to show quite a bit of this, and will likely continue to do so, hopefully with an addition of the psychology of superheroes, their secret identities and public identities.  Yet the writing is not the only good thing, some comics tend to have either the writing be good or the art, but this one has both. Greg Smallwood's art resembles a dream sequence, with many dark colours to counter Spector's personality. It was a nice thing to see, with very beautiful scenes in the first and last four pages.
I do hope he has not completely succumbed to mental instability, although, he has over five different personalities, so it might not be far fetched.