This list includes comic series or single issues that are only from 1 to 6 issues out, and that I've never read before, that way I can include other books besides Plutona, I Kill Giants, A-Force, Giant Days, Rachel Rising, The Spire, ODY-C, Rat Queens, Saga, and a bunch of other series I've been loving lately. 
Moon Knight 
Written by Jeff Lemire
Art by Greg Smallwood
Publisher: Marvel
I read the original series based off of this character, as well as the Warren Ellis run, and they were both quite good. So when I went to my comic store and one of the people working there recommended this after my expressing my love for Jeff Lemire, I felt it was my duty to pick it up. This will take Moon Knight through him trying to figure out if his entire past was just a fiction of his imagination, or if there is someone out there trying to get rid of him by driving him insane. I love analyzing superheroes, this one better deliver. 
Mighty Morphin Power Rangers 
Written by Kyle Higgins
Art by Hendry Prasetya
Publisher: BOOM! Studios
In preparation for the movie that is coming out, I have been watching every single episode of the franchise, and then I saw they were releasing comics based off of the original team. Could I say no? No, I could not, all I wanted was to get my hands on the first couple issues, I have. Now I will go and read them, I miss this show. 
Poe Dameron 
Written by Charles Soule
Art by Phil Noto
Publisher: Marvel
Poe was my favourite character of the Star Wars: The Force Awakens, so it was only natural that I would pick up a comic named after him. I have no idea at all what this is even focused on. I don't know if this happens before or after that film, or whether or not I will see characters I know, but since it has Poe, I don't care. The Star Wars comics coming out in recent years have been quite decent, and I hope this one surpasses all of them. 
Black Panther
Written by Ta-Nehisi Coates
Art by Brian Stelfreeze and Laura Martin
Publisher:  Marvel
I am a bit upset about something that was revealed about this character and his relationship with Storm in the previous stories, because I simply wanted them to be happy, so I am hoping this one can explain that event better as well as what the hell is happening in Wakanda. There is a lot of conflict there now, and I've heard nothing but stellar things about Coates' book, therefore I expect him to know where to take this wonderfully. PLUS, he will be in the upcoming film (even though his position is not the same as in the comic), and I want to refresh my mind on him before going into the film. 
Civil War II
Written by Brian Michael Bendis 
Art by David Marquez
Publisher: Marvel
A continuation of one of Marvel's few non-hated events, and one I am ecstatic to read. This one will deal more with '" determinism versus free will.*" I was on the losing side in the 2006 event, for this one, I will not pick a side until I've read the entire thing. Look up the teams online, maybe that will help you make your decision. 
X-Men: The Apocalypse Wars Event
Written by Jeff Lemire
Art by Humberto Ramos
Publisher: Marvel
X-Men are my favourite team of superheroes. I will read anything of them that sounds remotely interesting, and since this is not only including one of my favourite villains of all time, Apocalypse, but also has Jeff Lemire at the writing helm, it is stupid of me not to want to read it. I am not sure how they will make it tie with the movie, but I know they will find a way, they love to have their comics and films match. 
DC: Rebirth Event
Written by Geoff Johns
Art by Gary Frank, Phil Jimenez, Ethan Van Sciver, and Gary Frank
Publisher: DC
I am not too sure I know what this event will even be. It is been said it will go back to renumbering Action and Detective comics back to the original ones, but that is as much as I know. It is unlikely that I will read all of the titles, I will mostly read the 80 page main one by Geoff Johns and leave the others, either for another time, or not at all, unless they are written or drawn by people I trust not to ruin a character for me. 
Justice League Issue #50
Written by Geoff Johns
Art by Jason Fabok
Publisher: DC
Only reason I will be reading this one issue, is because it will reveal the identity of The Joker. I've read a couple of the issues of this run of the series, and although I haven't hated it, it has not drawn me to love it, at all. I will most likely be disappointed with it, since I do not want his identity to be known at all, the mystery of The Joker is that we don't know who he is, but simply that he is insane. If we give him a backstory we might feel fore him, something no one should do with a character like him. But I am putting my faith in Geoff Johns, he has yet to leave me unsatisfied, so even if I don't agree with how it turns out, it will not be a boring comic to read.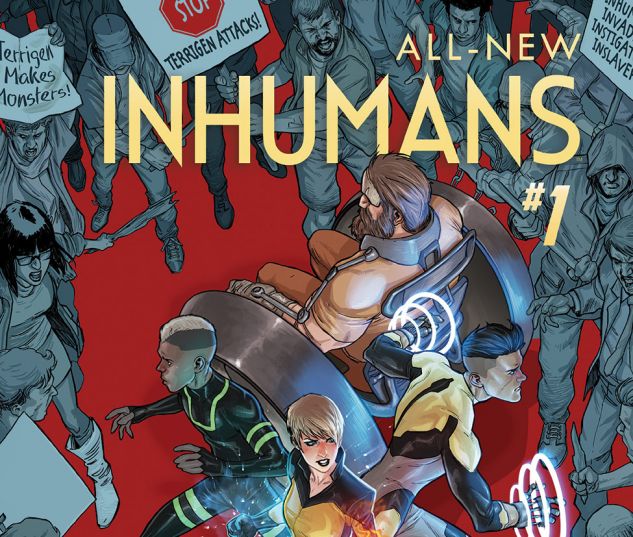 All-New Inhumans
Written by Charles Soule 
Art by Stefano Caselli and Nico Leon
Publisher: Marvel
Asides from X-Men, Inhumans are one of my favourite superhero teams of all time. and like X-Men, I've seen creators take them to a peak or completely plummet them to the underworld with horrible stories and plot lines. My hope for this, is that it will at least not suck. Soule has yet to impress me as a writer, but others like his things, so I cannot completely ignore he has some talent, I just hope he uses all of it in this series.