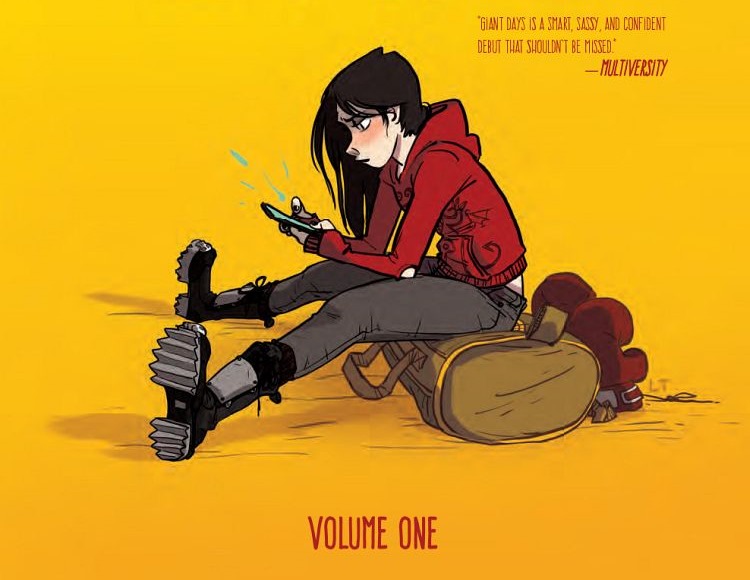 ★★★★/★★★★★: Giant Days, Vol. 1 by John Allison. 
I bought this gem at Comixology, where it was a brilliant $2.99 during one of their awesome sales, I am extremely glad I took advantage of such a sale, because otherwise, I would have taken a year before I got a copy at the library.
This is a tale of friends in college ( in the U.K.), who barely met, and are trying to discover who they are, along also come other friends, secret loves, and old ones. There are also other themes, such as sexual harassment and a wave of the type of "feminism" offensive to feminist. Yet, the plot is still a bit lacking, while the art delivers greatly.  Yes, I did love it, but I felt like I needed more plot and character development to drive the story forward, I am sure though, that this will not be a conflict with subsequent volumes, but I would have liked for it to have happened here. The art made me laugh, one of the characters, Susan, looks insane to me when I first saw her, which goes perfectly with her personality. The issues presented are dealt with in a funny why, but in no way does it diminish the issues.
It will be great to see these characters grow up, without missing a beat of hilarity.  
★★★★/★★★★★: The Spire #1, 2,3,4 by Simon Spurrier and Jeff Stokely.
This is a limited series, with a planned 8 issues, I need to get my hand on those issues, because the intrigue is killing me. This comic is set in Spire, a city in the middle of a wasteland, with a somehow war and clashes between humans (the royal family belonging to this group) and the Sculpted (which main character belongs to, humans that have been hybridized), as the Sculpted are treated as underclass and the humans see them as second class citizens, and desire for them to, basically, not exist.  Shå is the captain of the city's police, and is tasked with investigating a series of murders of aristocrats, while being demeaned by the new ruler and much of the human populace, while also having a side story of love and her unknown origin. 
This is basically a story about xenophobia, racism, and classicism, with the city's human inhabitants claiming none of this is true (hypocrites), while the outside religious zealots have an even lower tolerance for Sculpted. The classicism is obvious, mostly in the way the city is built, with all of those levels. That is a nice trick. However, the lines are not so neatly drawn, and we are left to wonder what truly is going on within the ethnic groups. This is a comic that is also not concerned with explaining much of the history behind the events, except perhaps one, but not what led this entire world to be this way, at least not so far, but I do look forward to it.
The art is as good as the plot, it is filled with beautiful colour, perfect for the science-fiction image it holds, as well as a very good variety of people, with clear differences between the species, avoiding repetition. (which I've seen in other comics, you know who you are!) 
As the writer described the series : "one part 'Mad Max,' one part 'Bladerunner,' one part 'Dark Crystal,' one part nutfuck insanity". I have yet to watch Mad Max, but I bet it is amazing (as everyone that has seen it keeps telling me), so this might be a nice next to read after seeing that film. 
★★★★/★★★★★: Rachel Rising, Volume 1: The Shadow of Death by Terry Moore. 
I've read Terry Moore before, he was one of the writers that took Runaways after Brian K. Vaughn finished, and after Joss Whedon did his issues, which are big shoes to fill, I did not find him good for those shoes. But these? Yes, these fit perfectly, because this series written and drawn by him is brilliant. After I finished this volume, I needed the second one, because there are so many answers that I need to know. I NEED TO KNOW!
This comic follows Rachel, a normal girl, except that she just crawled out of a pile of dirt where she was buried after being murdered, with no memory at all of what happened, red eyes, and a rope mark around her neck. This black and white comic knows how to create intrigue, for the entirety if my reading experience I kept making assumptions in my mind, as I tried to solve the case, whenever I felt someone was the culprit, something happened and they were freed from my suspicion, sort of. We are left with questions. How was Rachel murdered? By who? Why? How did she come back? What exactly is she since she is not alive? Why are there such creepy things happening to everyone? How come there are people who some see and others do not? Why is a little girl important? I JUST WANT TO KNOW!
The art is very good, I would not use the word beautiful, but there is something about it that stands true, it is gritty and realistic. Hence the black and white. The art is very conveying of what is going on, during the first few pages, and quite a few between, have no words, but allow for the images to speak for themselves, not many can do that in such a believable way, particularly when not aided by colour.
This is a series that will soon become a favourite.